The arrival of a new player at Millenium is not a surprise to most of you, due to many clues foreshadowing the exciting news. This news comes hardly three months shy after the arrival of Dragon in our line-up. A new recruit further strengthens the workforce in early summer, by none other than one of the Brood War legends Park "fOrGG" Ji Soo.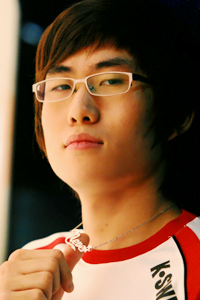 Park Ji Soo is none other than one of 15 winners of the Brood War based, MSL tournament won by the legendary likes of Flash or Bisu. He announced he had retired in late December 2010, before changing his mind and playing Starcraft 2 in July 2011 under the pseudonym "Raptor".
Our Terran player's rises to the spotlight as he competes in Code A this season. He has been a constant presence in either Code S or Code A, defeating players such as Sage, Polt, and July.
The entire Millennium team is delighted by the arrival of Park "fOrGG" Ji Soo, who will bring a touch of experience to the team to get closer to our goals. You'll see the end in Code A and OSL in the coming weeks, but also with the team STLG TSL to try to win the title of Supreme Team!
fOrGG achievments (SC2/BW) :
- Qualification Code S GSL 2012 saison 1
- Qualification Code A GSL 2012 November
-

ESV TV Korean Weekly 12
-

Arena MBCGame Starleague
The new Line-up Millenium.SC2 :

Rémy "Llewellys" Chanson (Manager)


Jérémy "Feast" Vansnick



Benoît "Adel" Strypsteen



Leif "KleeneX" Boutin



Faton "LaLuSh" Rekathati



Ilyes "Stephano" Satouri



Tomasz "Tarson" Boroń



Marcin "DieStar" Wieczorek



Jeon "Dragon" Yong Soo



Park "fOrGG" Ji Soo
This is the first official interview of Millenium fOrGG :
Credit :

NeverGG

How do you feel right now as a new member of a foreign team?

I'm both happy and nervous because this event marks the second major starting point of my pro-gaming career.

Why did you choose to join Millenium?

Millenium is a prestigious team that houses players like the world-renowned Stephano. I also chose this team because I think it will also be easy for me to adapt to the team since there is a fellow Korean player, Dragon.

What do you expect in the future as a member of Millenium ?

I would like to be a first-class global player as good as Stephano to produce good results in various tournaments.

Do you prefer fOrGG or Fin? What do your IDs mean?

I will be using the ID fOrGG. The ID stands for the hope to produce good matches (goodgame) in every game I play.

You will be the very first player in Millenium who will play in the GSL. How do you feel this about this new season ?

I feel as though I will acquire good results as a representative of Millenium.

Are you going to come visit France and the Millenium House once you have some time after GSL?

I plan on joining my other members at the team house as soon as possible.

Do you think you will attempt foreign tournaments now that you are a member of a foreign team?

I would like to attend as many tournaments as I possibly can.

What do you know and think about your new teammates? Is there anyone you would like to practice with?

I'm not familiar with neither Stephano nor Dragon yet, but I hope we can become friends soon when I join the team house.

What are your predictions and what do you hope to achieve in near future?

I need to win, of course.

Are there any last things you would like to say? Would you like to say something to both your fellow Korean teammate Dragon, and to the Millenium Fans?

I'm aware that Dragon has joined Millenium prior to my recruitment and has been both playing and adjusting well to the new environment. He has helped me a lot in the past and I hope he continues to assist me when I join the team house. I will practice hard and produce good results so that I can live up to the Millenium fans' expectations. I would like to ask for your support/cheering.