Le mois de janvier 2019 voit les retours des guildes Azorius, Rakdos, Gruul, Orzhov et Simic dans le mode Standard. En effet, l'extension Allégeance de Ravnica pointe le bout de son nez le 25 janvier prochain. Voici les dates des différents events qui précèderont cette sortie, ainsi que la liste de toutes les cartes de l'extension.
Les dates à retenir
12 et 13 janvier 2019 : journées portes ouvertes

19 et 20 janvier 2019 : avant-premières en boutiques

25 janvier : sortie mondiale de l'extension
Bien sûr, l'extension est dès maintenant disponible sur Magic Arena.
Retrouvez toutes les cartes de l'extension en passant par le lien ci-dessous.
Liste des cartes (noms français/anglais)
Noir
Hanteur de Hautetour (The Haunt of Hightower)

Engeance du chaos (Spawn of Mayhem)

Carcasse des égouts (Gutterbones)

Esprit pestiféré (Pestilent Spirit)

Cri du carnarium (Bellow of the Carnarium)

Mèche (Drillbit)

Faillite sanglante (Bankrupt in Blood)

Jongleuse de lames (Blade Juggler)

Racketteurs d'Orzhov (Orzhov Racketeers)

Eveil des Naguères (Awaken the Erstwhile)

Fontaine des agonies (Font of Agonies)

Argousin d'Orzhov (Orzhov Imposter)

Prêtresse des dieux oubliés (Priest of Forgotten Gods)

Lame-brandon (Bladebrand)

Infiltrateur brumesang (Bloodmist infiltrator)

Diablotin charognard (Carrion Imp)

Crocodile des catacombes (Catacomb Crocodile)

Dégager la piste (Clear the Stage)

Consigner à la fosse (Consign to the Pit)

Festivités des morts (Dead Revels)

Transport des consignataires (Debtors' Transport)

Décès grotesque (Grotesque Demise)

Héritage mal acquis (Ill-Gotten Inheritance)

Groudion délétère (Noxious Groodion)

Nécrophage de la peste (Plague Wight)

Joueur de trompe de Rakdos (Rakdos Trumpeter)

Déchiqueteur des tours (Spire Mangler)

Ombre assoiffée (Thirsting Shade)

Charognard de la Citerraine (Undercity Scavenger)

Etreinte de la Citerraine (Undercity's Embrace)

Vampire vindicative (Vindictive Vampire)
Rouge
Flamplificateur (Amplifire)

Fêtard de Rix Maadi (Rix Maddi Reveler)

Eclairer la piste (Light Up the Stage)

Escouflenfer skarrgan (Skarrgan Hellkite)

Vandale de Brûle-arbre (Burning Tree Vandal)

Pleins feux (Burn Bright)

Electrodominance (Electrodominance)

Shamane d'immolation (Immolation Shaman)

Ignus des Fonderies (Smelt Ward Ignus)

Marche miroir (Mirror March)

Les portes embrasées (Gates Ablaze)

Brûlemarque (Scorchmark)

Embrocher les critiques (Skewer the Critics)

Acte de trahison (Act of Treason)

Cavalacade de la Calamité (Cavalcade of Calamity)

Shamane des clameurs (Clamor Shaman)

Lanceuse de dagues (Dagger Caster)

Dégradations (Deface)

Maaka sauvage (Feral Maaka)

Flammes du Sanglier terrasseur (Flames of the Raze-Boar)

Démolisseur du clan Ghor (Ghor-Clan Wrecker)

Rassemblement des gobelins (Goblin Gathering)

Gobelin à peau de gravier (Gravel-Hide Goblin)

Lecture de gravats (Rubble Reading)

Reclus des éboulis (Rubblebelt Recluse)

Ruine grondante (Rumbling Ruin)

Cracheur de lances (Spear Spewer)

Acrobate à la roue épineuse (Spikewheel Acrobat)

Frappe de l'orage (Storm Strike)

Finaude de la rue d'étain (Tin Street Dodger)
Vert
Vigile de la chambre de croissance (Growth Chamber Guardian)

Reboisement des régions reculées (Wilderness Reclamation)

Avant-coureurs du Grand Terrassement (End-Raze Forerunners)

Sauvagerie des Clans (Rampage of the Clans)

Combat titanesque (Titanic Brawl)

Amélioration byosynthétique (Biogenic Upgrade)

Guidevoie silhana (Silhana Wayfinder)

Maîtresse des bêtes gruul (Gruul Beastmaster)

Projet Gardien (Guardian Project)

Hybride sauroforme (Sauroform Hybrid)

Vigile dressé par les trolls (Trollbred Guardian)

Druidesse d'incubation (Incubation Druid)

Limon biosynthétique (Biogenic Ooze)

Bélier brise-porte (Gatebreaker Ram)

Regénèse (Regenesis)

Bête de Fléaudhache (Axebane Beast)

Cératok enragé (Enraged Ceratok)

Don de force (Gift of Strength)

Araignée mammouth (Mammoth Spider)

Ouvrez les portes (Open the Gates)

Hachecorne déchaîné (Rampaging Rendhorn)

Collet de racines (Root snare)

Volée des sagittars (Sagittars Volley)

Pourvoyeuse de saruli (Saruli Caretaker)

Fureteur des clochers (Steeple Creeper)

Force de pierre (Stony Strength)

Enjambeur de broussailles sylvestre (Sylvan Brushstrider)

Sanglier territorial (Territorial Boar)

Défense de tour (Tower Defense)

Bête ravageuse (Wrecking Beast)
Blanc
Percepteur de dîme (Tithe Taker)

Dîme étouffante (Smothering Tithe)

Exaltation angélique (Angelic Exaltation)

Ange de l'arche (Archway Angel)

Ministre d'obligation (Ministrant of Obligation)

Formation inébranlable (Unbreakable Formation)

Ange de la grâce (Angel of Grace)

Esprit des tours (Spirit of the Spires)

Rempart mugissant (Lumbering Battlement)

Héroïne de la Première cironscription (Hero of Precinct One)

Esprit menaçant (Forbidding Spirit)

Ralliement au combat (Rally to Battle)

Chien de garde déterminé (Resolute Watchdog)

Marque de la sentinelle (Sentinel's Mark)

Chaîne céleste (Sky Tether)

Zèle du courtier (Arrester's Zeal)

Escorter au procès (Bring to Trial)

Vaillant municipal (Civic Stalwart)

Pégase de Concordia (Concordia Pegasus)

Exposer à la lumière du jour (Expose to Daylight)

Officier d'Haazda (Haazda Officer)

Orateur passionné (Impassioned Orator)

Portail du justicier (Justiciar's Portal)

Chevalière des regrets (Knight of Sorrows)

Caracal rôdeur (Prowling Caracal)

Jugement sommaire (Summary Judgement)

Messager du Syndicat (Syndicate Messenger)

Vétérane de la dixième circonscription (Tenth District Veteran)

Panthère du crépuscule (Twilight Panther)

Géant alerte (Watchful Giant)
Bleu
Manipulation de masse (Mass Manipulation)

Sphinx des prévisions (Sphinx of Foresight)

Perception précognitive (Precognitive Perception)

Etanchement (Quench)

Cercle de vérité (Verity Circle)

Monstroncule (Humongulus)

Espionne manta (Skatewing Spy)

Benthide hypnotisant (Mesmerizing Benthid)

Capture d'essence (Essence Capture)

Admonition du courtier (Arrester's Admonition)

Biomancien benthique (Benthic Biomancer)

Drakôn des trombes (Windstorm Drake)

Ptéramandre (Pteramander)

Pétitionnaires insistants (Persistent Petitioners)

Gateway Sneak

Chillbringer (Annonciateur de froid)

Vider l'esprit (Clear the Mind)

Code de contrainte (Code of Constraint)

Commando des coraux (Coral Commando)

Des yeux partout (Eyes Everywhere)

Duelliste faerie (Faerie Duelist)

Yeux fouineurs (Prying Eyes)

Savant du rang du Sage (Sage's Row Savant)

Messager du Sénat (Senate Courier)

Scintillement de probabilité (Shimmer of Probability)

Anguille rampante (Skitter Eel)

Lien gluant (Slimebind)

Torrent déchaîné (Swirling Torrent)

Effondrement des pensées (Thought Collapse)

Mur des pensées perdues (Wall of Lost Thoughts)
Artefact
Colosse de la Porte (Gate Colossus)

Vitrail du Pacte des Guildes (Guildpact Window)

Médaillon de Gruul (Gruul Locket)

Médaillon de Simic (Simic Locket)

Médaillon d'Orzhov (Orzhov Locket)

Médaillon d'Azorius (Azorius Locket)

Médaillon de Rakdos (Rakdos Locket)

Griffes racleuses (Scrabbling Claws)

Grimoire du Pacte des Guildes (Tome of the Guildpact)

Sphinx du Pacte des Guildes (Sphinx of the Guildpact)

Ramasseur de ferrailles (Junktroller)

Bouclier hurlant (Screaming Shield)
Gruul
Arynx hystérique (Frenzied Arynx)

Brisesort des Gruul (Gruul Spellbreaker)

Ecrabouilleur du clan Bolrac (Bolrac-Clan Crusher)

Guivre dévastatrice (Ravager Wurm)

Gobelin de Zhur-Taa (Zhur-taa Goblin)

Rythme de la forêt (Rhythm of the Wild)

Nikya des Traditions (Nikya of the Old Ways)

Domri, porteur de chaos (Domri, Chaos Bringer)

Fracas sauvage (Savage Smash)

Briser / Braver (Trash / Threat)

Cendrelianes (Cinderlash)

Ghildmage du Clan (Clan Guildmage)

Shamane de scission (Sunder Shaman)

Collision / Colosse (Collision / Colossus)

Coureur des éboulis (Rubblebelt Runner)

Frondeuse des éboulis (Rubble Slinger)
Simic
Krasis hydroïde (Hydroid Krasis)

Familier du biomancien (Biomancer's Familiar)

Ascendance simic (Simic Ascendancy)

Incubation / Incongruité (Incubation/Incongruity)

Zegana, oratrice utopiste (Zegana, Utopian speaker)

Aéromoncule (Aeromonculus)

Spirale de croissance (Growth Spiral)

Première oratrice Vannifar (Prime Speaker Vannifar)

Mystique à jabots (Frilled Mystic)

Ghildmage du Cartel (Combine Guildmage)

Lézaraine galopante (Galloping Lizrog)

Ingénieur de la spirale (Gyre Engineer)

Crabe céphalosquale (Sharktocrab)

Répudier / Répliquer (Repudiate / Replicate)

Biomancie appliquée (Applied Biomancy)

Crabigator (Skuttlegator)
Azorius
Lavinia, renégate d'Azorius (Lavinia, Azorius Renegade)

Absorption (Absorb)

Perspicacité du sphinx (Sphinx's Insight)

Adjointe aux détentions (Deputy of Detention)

Mesures d'urgence (Emergency Powers)

Dovin, grand arbitre (Dovin, Grand Arbiter)

Alerte rouge (High Alert)

Déposer / Déployer (Depose / Deploy)

Sphinx du Nouveau Prahv (Sphinx of the New Pravh)

Procuration / Protègement (Warrant / Warden)

Ghildmage du Sénat (Senate Guildmage)

Gardeciel d'Azorius (Azorius Skyguard)

Acuité de Dovin (Dovin's Acuity)

Griffon du Sénat (Senate Griffin)

Entrave des magelois (Lawmage's Binding)

Chevalier-arbitre d'Azorius (Azorius Knight-Arbiter)
Rakdos
Acrobate de feu de Rakdos (Rakdos Firewheeler)

Judith, diva du fléau (Judith, the Scourge Diva)

Affres (Bedevil)

Démon des poutres (Rafter Demon)

Rakdos, le clou du spectacle (Rakdos, the Showstopper)

Carnaval / Carnage (Carnival / Carnage)

Ghildmage du Culte (Cult Guildmage)

Accrobattrice (Hackrobat)

Homme à tout faire de Rakdos (Rakdos Roustabout)

Théâtre des horreurs (Theater of Horrors)

Parer / Parader (Bedeck / Bedazzle)

Artiste lamefeu (Fireblade Artist)

Public captif (Captive Audience)

Moquerie macabre (Macabre Mockery)

Droit au but (Get the Point)

Fielleux des feux de la rampe (Footlight Fiend)
Orzhov
Oligarque impérieuse (Imperious Oligarch)

Mortification (Mortify)

Kaya, usurpatrice d'Orzhov (Kaya, Orzhov Usurper)

Séraphine de la Balance (Seraph of the Scales)

Teysa Karlov

Hanteur de cloche de la basilique (Basilica Bell Haunt)

Pontife impitoyable (Pitiless Pontiff)

Consacrer / Consumer (Consecrate / Consume)

Srâne saisissant (Grasping Thrull)

Colère de Kaya (Kaya's Wrath)

Revif / Rétorsion (Revival / Revenge)

Absolution éthérée (Ethereal Absolution)

Ghildmage du Syndicat (Syndicate Guildmage)

Chevalier du dernier souffle (Knight of the Last Breath)

Vampire de Vizkopa (Vizkopa Vampire)

Dernier paiement (Final Payment)
Terrains
Place de l'Harmonie (Plaza of Harmony)

Porte de la guilde Gruul (Gruul Guildgate)

Porte de la guilde Simic (Simic Guildgate)

Porte de la guilde Orzhov (Orzhov Guildgate)

Porte de la guilde Rakdos (Rakdos Guildgate)

Porte de la guilde Azorius (Azorius Guildgate)

Terrain de prédilection (Stomping Ground)

Fontaine sacrée (Hallowed Fountain)

Crypte de sang (Blood Crypt)

Bassin d'élevage (Breeding Pool)

Reliquaire impie (Godless Shrine)

Place des portails (Gateway Plaza)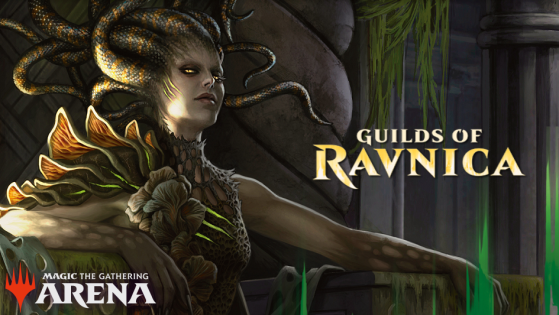 Retrouvez toutes les cartes du set Guildes de Ravnica, qui est apparu en version papier autant que sur MTGA. Toutes les couleurs, toutes les guildes sont disponibles juste ici.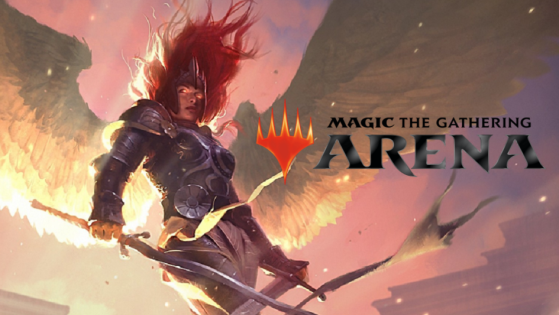 Nous vous proposons ici de faire un tour de l'interface du jeu, surtout destiné aux débutants, mais aussi de rentrer un peu dans les détails pour bien entamer votre roadtrip sur Magic Arena. Quelle méthode est rentable pour rester en free-to-play, ou encore quel type de deck jouer ?