La Saison 26 est bien entamée, et comme à chaque fois, les développeurs de Diablo 3 nous ont préparé quelques nouveautés. En plus de la refonte d'un certain nombre de sets de classes légendaires, un nouveau mini-set 3 pièces est introduit. Le thème saisonnier de la Saison 26, celui du Cauchemar éveillé, va aussi devenir un élément permanent du jeu. Il était temps que Blizzard se rende compte que mettre au placard tous les événements saisonnier était un énorme gâchis. Différentes améliorations sont apportées au jeu, et bien entendu, le thème de la Saison 27 a été révélé, et il va être testé lui aussi sur les Serveurs de test 2.7.4, qui ouvrent leurs portes le 12 juillet prochain, pour une période de 16 jours.

Saison 27 : Saison des Creusets angéliques
Après les pouvoirs des enfers, il y a quelques saisons, c'est au tour des pouvoirs des cieux d'être conférés aux Nephalems. Vous allez trouver des Creusets angéliques.
Des objets angéliques spéciaux vous permettront d'utiliser la puissance des cieux afin de reforger aux objets légendaires et leur conférer des statistiques parfaites, comme les objets légendaires anciens. Et ce n'est pas tout, ils vont aussi gagner un pouvoir légendaire supplémentaire parmi 3 possibles pour chaque classe. Nous les listons un peu plus bas.
Les Creusets angéliques peuvent être trouvés au niveau 70 durant la Saison 27. Ils ne seront pas transférés à la fin de la saison, ni les objets modifiés avec leur pouvoir. La Saison 27 sera la seule opportunité de s'amuser avec.

Un Creuset angélique confère de nouvelles statistiques parfaites à un objet légendaire de niveau 70, ainsi qu'un second bonus légendaire lié à la classe de votre personnage. Le bonus légendaire de base est préservé. Chaque classe a 3 bonus légendaires disponibles.

Un seul objet béni avec un Creuset peut être équipé à la fois.

Les statistiques d'un objet béni sont complètement modifiées.

Les compagnons ne peuvent pas équiper ces objets bénis.

Il est possible de bénir un objet plusieurs fois avec un nouveau Creuset, afin d'obtenir de nouvelles capacités.
Principaux ajouts du Patch 2.7.4
Voici un rapide résumé des nouveautés, les notes de mise à jour intégrales sont disponibles un peu plus bas. Elles sont en Anglais pour le moment.
Le mode aventure et les modes de difficulté jusqu'au Tourment 6 sont à présent débloqués par défaut pour tous les joueurs, sur toutes les plateformes, sans avoir à finir l'histoire.

Les royaumes des Uber-boss ferment automatiquement 60 secondes après leur défaite, ce qui permet d'ouvrir davantage de portails dans la même partie.

Les Cauchemars éveillés deviennent une fonctionnalité permanente du jeu, mais l'expérience obtenue est réduite de 83% à l'intérieur, afin de ne pas en faire de très loin la meilleure activité du jeu.

Le set 3 pièces Péril du gardien est introduit, il augmente la Vitalité, la Force, la Dextérité et l'Intelligence de base des objets équipés de 50%.
Refonte des bonus d'ensemble du Set d'Akkhan (Croisé), Trag'Oul (Nécromancien), Delsere et Tal Rasha (Sorcier) ainsi que du set Inna (Moine).

Quelques objets légendaires voient aussi leurs bonus modifiés.
MISE À JOUR 2.7.4
Retrouvez ci-dessous les notes de mise à jour officielles pour les serveurs de test. Elles ne sont disponibles qu'en Anglais pour le moment, et elles sont susceptibles d'être modifiées durant la phase de test, et d'ici leur déploiement sur les serveurs de jeu live. N'espérez pas voir le patch arriver avant le mois d'août.
Remarque : sauf mention contraire, toutes les modifications concernent l'intégralité des versions de Diablo III, c'est-à-dire sur PS4, Xbox One, Switch et PC/Mac.
Season 27
Season 27 introduces a new type of consumable item called Angelic Crucibles. Once uncovered by Nephalem, these heavenly artifacts can be used to Sanctify any equippable Legendary item. Sanctifying an item reforges it to have perfect Ancient-level stats on all affixes while also preserving the item's Legendary Power. In addition, this process adds one of three new powers unique to each class.
Season Theme Details:
Angelic Crucibles and Sanctified Items can only be acquired in Seasonal play and will not transfer to your non-seasonal character when the season ends.

Angelic Crucibles can drop anywhere in Sanctuary at level 70.

Players can obtain as many Sanctified items as they would like, however, only one Sanctified item can be equipped at a time.

Sanctified items can be Sanctified again using another Angelic Crucible.

No stats are preserved when Sanctifying an item.

Only level 70 equippable items can be Sanctified—crafted items cannot be Sanctified.

Followers cannot equip Sanctified items.
Class-Specific Sanctified Powers
Barbarian
Whirlwind pulls in and holds all enemies within 25 yards.

Hammer of the Ancients hits in all directions around the Barbarian. Every seventh cast of Hammer of the Ancients unleashes a powerful shockwave.

Hitting enemies generates stacks of Tempest Rhythm. Activating Wrath of the Berserker consumes 50 stacks of Tempest Rhythm and startles enemies within 16 yards, causing them to take 0.5% increased damage per stack for 10 seconds. Max 100 stacks.
Crusader
Blessed Hammer now crackles with energy damaging enemies within 15 yards of its path. All runes but Dominion now throw the hammer in a direct path in front of the Crusader.

Every two seconds, call down Fist of the Heavens on a random nearby enemy.

After casting Falling Sword, you descend from the sky with two Archangels that wield immense holy skills and benefit from your holy damage skill modifiers.
Demon Hunter
Strafe now casts the last non-channeled Hatred spending ability casted.

Casting Vengeance unleashes a barrage of rockets that deal damage equal to a percentage of an enemy's current hit points. The percentage per rocket is reduced if the enemy is an Elite or Boss. This effect cannot occur more than once every 60 seconds.

Firing Cluster Arrow concentrates its explosive force into a piercing ray of light.
Monk
Casting Wave of Light now summons a bell at the target location that deals damage when the caster attacks the bell. Up to seven bells can be active at one time.

All Way of the Hundred Fists combo punches use the second stage combo punch.

The target of your Seven-Sided Strike is barraged with spiritual punches for 15 seconds. This can only affect one enemy at a time.
Necromancer
Your Golem now picks up corpses within 20 yards. Each corpse it stores allows you to cast any corpse spending ability with the max number of corpses consumed per cast. Up to 30 corpses can be stored.

Enemies within 50 yards are constantly assaulted by the Army of the Dead - Unconventional Warfare while this item is equipped.

Hitting enemies with Death Nova five consecutive times adds a spirit that afflicts an enemy every fifth cast of Death Nova. Up to three spirits can be sent at a time.
Witch Doctor
Five seconds after casting Haunt, all Haunted enemies within 50 yards are pulled to the Witch Doctor.

Horrify becomes an aura that causes enemies to receive 15% more damage and deal 15% less damage in addition to its other effects.

Your Gargantuan spreads Locusts Swarm to any enemy within 16 yards and summons Zombie Dogs periodically. Zombie Dogs now gain every rune when summoned.
Wizard
Casting Storm Armor sends a power thunderbolt from the skies that instantly kills a random enemy within 30 yards. Bosses are not killed but take significant damage. This effect cannot occur more than once every 60 seconds.

Arcane Orb now periodically spawns up to four orbiting charges that will generate an additional orb when cast. All charges from the Arcane Orbit rune now detonate at the same time.

Magic Missile fires 20 missiles and gains the effect of the Seeker rune.
Developer's Note : With the Lords of Hell Season, we explored what Nephalem would do if they possessed the powers of Hell. This season we invite players to witness what Nephalem can accomplish with the powers of Heaven. Our goal with the 21 unique class-powers was to introduce changes to skills that can redefine the way you play a build or set. We're excited to see how players will harness the powers of Heaven in Season 27.
General Updates
Adventure Mode is now unlocked for all accounts by default. Players are no longer required to complete the Campaign to access Adventure mode.

Default difficulty selection has been updated to be consistent for all players and platforms. All players now have access to Normal-Torment 6 difficulties by default, and upon reaching level 70 with a character, players gain access to Torment 7–Torment 16.

Uber Boss Realms now automatically close 60 seconds after the Uber Bosses have been defeated. Additional portals to the same Uber Boss Realm can now be opened in a single game session.

The Experience rewarded upon completion of an Echoing Nightmare has been reduced by 83%.
Developer's Note: With Echoing Nightmares transitioning from a Seasonal theme to a permanent feature moving forward, we felt it was necessary to dial back the Experience rewards to avoid players feeling obligated to maximize their time spent inside the activity. Our vision for Echoing Nightmares is to be a fun bonus activity, like the Vault, that serves as a good source of loot and Augment materials. We've also made several changes to Adventure mode and difficulty unlocks—these will align the Diablo III experience across all platforms for new players and should make it easier to jump into your preferred activity. Lastly, we improved the Uber Boss flow so that players and groups can kill multiple rounds of bosses without having to remake games.
Item Changes
General
Guardian's Jeopardy (2-piece bonus): Your base Vitality attribute from equipped items is increased by 50%.
Guardian's Jeopardy (3-piece bonus): Your base Strength, Dexterity, and Intelligence attributes from equipped items are increased by 50%.
Developer's Note: We've heard from players that the Crafted 3-piece sets have had some of the most significant impacts on itemization, so we're introducing another to add more choice.
Crusader
Armor of Akkhan (2-piece bonus): Judgment has no cooldown and gains the effect of every rune.
Armor of Akkhan (4-piece bonus): Attacks from Phalanx Avatars reduce the cooldown of Akarat's Champion by 0.5 seconds, and also apply Condemn when attacking enemies that is affected by Judgment.
Eternal Union: Increases the duration of summoned Phalanx Bowmen and Bodyguard indefinitely.
Developer's Note: Our goal with the Armor of Akkhan rework is to narrow the focus of the set to give a distinctive identify, highlighting a fantasy where the Crusader is the Knight-Commander, passing judgment on the enemies of the Light.
Necromancer
Trag'Oul's Avatar (2-piece bonus): Blood Rush and Siphon Blood gains the effect of every rune. Your Life-spending abilities no longer cost Essence.
Trag'Oul's Avatar (4-piece bonus): While at full Life, your healing from skills is added to your maximum Life for 45 seconds, up to 300% more.
Trag'Oul's Avatar (6-piece bonus): Your Life-spending abilities deal 10,000% increased damage and your healing from skills is increased by 100%.
Iron Rose: Attacking with Siphon Blood has a 100% chance to cast a free Blood Nova. After cumulatively losing 10% of your maximum Life, your Death Nova deals 40% increased damage for 60 seconds. This effect stacks up to 10 times.
Funerary Pick: Siphon Blood from 2 additional targets. Each target takes 300% increased damage from you. The bonus from Siphon Blood - Power Shift is now 20% per stack and benefits all skills.
Developer's Note: We wanted to recapture the Blood Necromancer fantasy of Trag'Oul's Avatar and increase its effectiveness against single targets.
Wizard
Delsere's Magnum Opus (2-piece bonus): Casting Arcane Orb, Energy Twister, Magic Missile, Shock Pulse, Spectral Blade, Electrocute, Meteor, or Arcane Torrent also casts Slow Time at a target. This effect will not trigger if the target is already inside a Slow Time bubble. The cooldown of Teleport will reset while you're inside bubbles generated from this set or cast by you.
Delsere's Magnum Opus (4-piece bonus): You take 75% reduced damage while you have a Slow Time active. Allies inside your Slow Time gain half benefit.
Crown of the Primus: Slow Time gains the effect of every rune and permanently follows you.
Tal Rasha's Elements (2-piece bonus): Damaging enemies with Arcane, Cold, Fire or Lightning will grant immunity to that element and cause a Meteor of the same damage type to fall from the sky. The same meteor cannot happen twice in a row.
Tal Rasha's Elements (4-piece bonus): Arcane, Cold, Fire, and Lightning attacks each increase all of your resistances by 50% for 8 seconds.
The Smoldering Core: Lesser enemies are now lured to your Meteor impact areas. Meteors deals 40-50% increased damage on consecutive hits to the same target. This stacks up to 10 times.
Developer's Note: Delsere's Magnum Opus has been feeling weak, clunky and isn't meeting the desired gameplay flow, so we've streamlined the playstyle to make it more engaging, allowing Wizards to feel like masters of time. The core of Tal Rasha's Elements has changed over time, so we're revisiting it to reintroduce a playstyle that utilizes Meteor.
Monk
Inna's Mantra (6-piece bonus): Gain the passive abilities of the five runed Mystic Allies at all times. Attacking enemies creates your chosen Mystic Ally that lasts 15 seconds, up to 10 Mystic Allys. The damage of your Mystic Allies is increased by 900% for each Mystic Ally you have out.
Developer's Note: Inna's Mantra Monks have been riding high on the waves of success for several seasons, so it's time to bring in the nerf shark.
Comment participer
Pour participer au test public, votre compte Blizzard doit disposer d'une licence de jeu Diablo III en règle (c'est-à-dire que votre compte ne doit être ni banni, ni suspendu). De plus, vous devrez télécharger et installer l'application Blizzard Battle.net si ce n'est pas déjà fait.
Étape 1 : créez un compte RPT. Pour ce faire, connectez-vous sur la page de gestion de votre compte Blizzard Battle.net et double-cliquez sur votre licence de jeu Diablo III pour accéder à la page de gestion du jeu. Sur cette page, cliquez sur « Créer un compte de RPT ».
Si vous avez participé à de précédents tests de Diablo III, le bouton « Créer un compte de RPT » peut ne pas apparaître. Cela signifie que vous possédez déjà un compte RPT ; vous pouvez donc passer cette étape.
Étape 2 : après avoir créé votre compte RPT, installé l'application Blizzard Battle.net et vous être connecté avec vos identifiants Blizzard Battle.net, sélectionnez « Diablo III » dans le menu principal, sur le côté gauche de l'application.
Étape 3 : sur l'écran de Diablo III se trouve un menu déroulant au-dessus du bouton « Jouer » (ce bouton indique « Installer » si Diablo III n'est pas installé sur votre machine). Dans ce menu, sélectionnez « RPT : Diablo III » avant de continuer.
Étape 4 : vous devriez alors pouvoir installer la mise à jour et y accéder.
La mise à jour des RPT est disponible dans toutes les langues proposées par le jeu et toutes les régions peuvent y participer
Copier un personnage sur le RPT
Vous pouvez copier vos personnages de Diablo III de votre compte normal à votre compte RPT via le logiciel client du RPT. Toutefois, vous ne pouvez copier des personnages que d'une région par compte à la fois. Si vous choisissez de copier des personnages d'une région différente, vos précédents personnages copiés sur le RPT seront perdus.
Étape 1 : connectez-vous au jeu normal, puis déconnectez-vous.
Étape 2 : connectez-vous au RPT et créez un personnage de niveau 1. Ensuite, retournez à l'écran principal.
Étape 3 : cliquez sur le bouton « Copie sur RPT » dans le coin supérieur droit (ce bouton n'apparaît pas en jeu tant que vous n'avez pas créé un nouveau personnage de niveau 1).
Étape 4 : sélectionnez votre région.
Étape 5 : cliquez sur « Copier ». Cette action permet de copier tous vos personnages sur votre compte de la région sélectionnée.
Étape 6 : vous serez déconnecté du RPT.
Étape 7 : connectez-vous de nouveau. Vos personnages copiés sont alors disponibles.
Vous ne pouvez copier des personnages que d'une région à la fois. Si vous copiez des personnages d'une autre région, tous les personnages précédemment copiés vers le RPT seront perdus. De plus, vous ne pouvez copier des personnages vers votre compte RPT qu'une fois toutes les 24 heures. Si vous tentez de copier des personnages avant la fin de ce délai, un message d'erreur apparaîtra.
Ces serveurs étant dédiés au test, les performances en jeu peuvent être irrégulières. Des redémarrages et des périodes d'indisponibilité peuvent également survenir sans avertissement. Merci, nous avons hâte de lire vos commentaires !
steam
Retrouvez notre liste des prochaines sorties de jeux les plus importants, à ne pas rater en 2022 et 2023 sur PC, Xbox, Switch, PS4 et PS5. Découvrez ici la date de sortie, leur trailer et les principales infos sur les sorties JV à venir.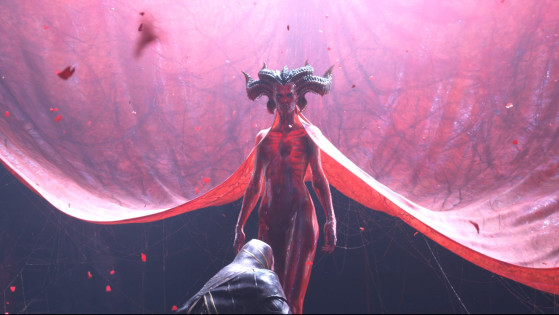 L'annonce de Diablo IV à la BlizzCon a créé beaucoup de hype chez les fans, mais aussi de nombreuses craintes chez les déçus de Diablo 3. Nous tentons ici d'établir une liste de ce que la communauté attend le plus de la part des développeurs de Blizzard dans D4.
Voir la suite