La nouvelle snapshot 21w13a de la version Java de Minecraft ajoute les chèvres ainsi que plusieurs changements sur le jeu pour préparer la Caves and Cliffs update. Toutes les informations sont disponibles plus bas dans cet article !
Ajout des Chèvres
L'une des nouvelles créatures de la Cave and Cliff update vient d'être ajouté à la version java de Minecraft ! Les chèvres apparaissent dans les biomes Montagnes et peuvent escalader ses flancs grâce à leurs sauts incroyables.
Elles vous suivront et seront élevées en utilisant du Blé et sont une nouvelle source de Lait.
Accessibilité
Ajout d'un background noir alternatif pour le logo Mojang Studios qui apparait dans les écrans de chargement. Il est activable avec l'option d'accessibilité "Logo Monochrome"
Changements de la 21w13a
Modification des Grottes

Modifications de la répartition des minerais

Modifications de la neige poudreuse

Des amas de dripstone peuvent maintenant être trouvés rarement dans des grottes normales.
Des amas de Deepslate peuvent maintenant être trouvés entre les hauteurs 0 et 16
Axolots et Poulpes lumineux peuvent maintenant apparaître dans les sources d'eau souterraines.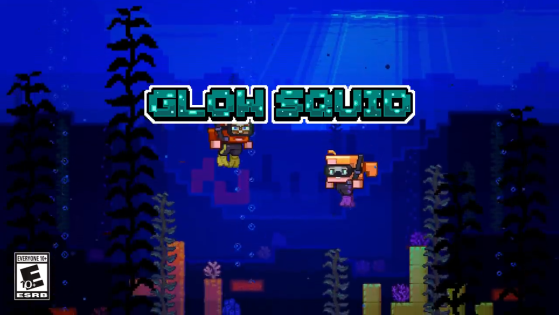 La mise à jour 1.17 sortira bientôt sur Minecraft avec de nombreuses nouveautés. On retrouve notamment une nouvelle créature passive : le Poulpe lumineux qui viendra illuminer les eaux les plus sombres. Prenez votre pioche et entrez dans la cave update !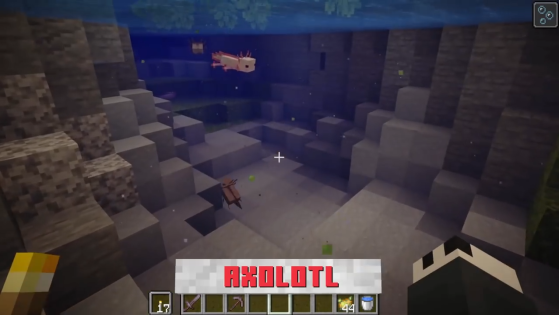 Souhaitez la bienvenue aux Axolotl sur Minecraft 1.17, la prochaine mise à jour du jeu. Ces créatures neutres pourront être apprivoisées et vous accompagner dans vos aventures sous-marines !
Les Axolotls poursuivront et attaqueront toujours les poulpes, poulpes lumineux, les poissons tropicaux, les morues, les saumons, les poissons ballons, les noyés, les gardiens et les anciens gardiens

Les Axolols ont maintenant un cooldown de 2 minutes après avoir chassé une cible non-hostile comme un poisson ou un poulpe.

Ils mettront la priorité sur le ciblage de créatures hostiles

Les Abeilles voient désormais l'azalée fleurie comme des fleurs.

Ajouts d'échanges pour le commerçant errant et le Maçon

Ajouts aux tables de butin des coffres
Modification des caves
Modification des puits de mines abandonnés : la longueur maximale des piliers et des chaînes a été augmentée

Changements des carver : les carvers sont moins susceptibles d'être trop plats pour être traversés.
Changements sur les grottes à bruit :
Augmentation de la probabilité des mégagrottes (grotte de type large fromage)

Réduction de la probabilité des piliers en forme de cure-dents (grands et fins piliers d'un bloc)

Autres changements pour rendre les grottes de type "fromage" plus variées et intéressantes.
Changements sur la répartition des minerais
Légère augmentation du fer

Des amas de diamants plus grands se forment parfois
Poudre neigeuse
La durabilité/dureté de la poudreuse a été légèrement augmentée

Le temps de gel a été réduit à 7 secondes et la fréquence de dégâts a été diminuée à 2 secondes.

Les entités en feu feront fondre la Poudre neigeuse lorsqu'elles entrent en collision

Augmentation de la vitesse de mouvement vertical dans la neige poudreuse.

Les Vagabonds, ours polaires et golems de neiges sont désormais immunisés au gel

Les créatures tremblent maintenant quand elles sont totalement gelées

La conversion des squelettes en vagabonds requière maintenant 7 secondes pour être totalement gelé pour démarrer la conversion, au lieu des 30 secondes auparavant.

L'armure de cuir du cheval les protègent des dégâts de gel.

Les créatures qui apprécient la chaleur prennent des dégâts supplémentaires du gel (Blazes, Cubes de magma)
Changements dans les échanges et le butin
Ajouts des échanges suivants pour le Maçon :
Vendra 4 blocs de Dripstone pour 1 émeraude
Ajouts des échanges suivants pour le Marchand ambulant :
Vendra 2 Pointed Dripstones pour 1 émeraude
Vendra 2 Rooted Dirt pour 1 émeraude
Vendra 2 blocs de Mousse pour 1 émeraude
Les blocs de mousses pourront être trouvés dans les coffres des épaves de navire
Les Baies lumineuses peuvent être trouvées dans les coffres de Puits de mine abandonnés.
Changements techniques
Ajouts des cubes métriques de lumière !

Les parties inutilisées du code ne sont plus retirées
Blocs de lumière
Bloc waterlog de lumière récupérable uniquement par l'OP et la commande /give

Emet de la lumière à un niveau déterminé par l'état du bloc

Visible et ciblable uniquement quand l'item est tenu (comme les barrières)

Clic droit pour changer le niveau de lumière
FIXED BUGS IN 21W13A
MC-3366 - End portal appears transparent from below

MC-70738 - Killing guardian with lava does not give cooked fish

MC-102269 - Polar bears drop raw fish instead of cooked fish when killed with fire or lava

MC-108636 - There are a number of unused texture files

MC-123587 - Kicked from the game when reaching y levels over 30,000,000

MC-124667 - Air can be used in custom recipes, causing a crash

MC-136776 - Some NBT tags are not kept when fish or axolotl mobs are caught in water buckets

MC-167853 - Observer doesn't detect when a grass block changes to dirt if a tree grows on top

MC-174701 - Leash knot sound effect plays when loading singleplayer world

MC-187544 - 'Cover Me With Diamonds' advancement improperly capitalized

MC-190774 - Stonecutter saw spins both ways simultaneously

MC-194183 - Some experience points do not go towards Mending repair, even if the Mending gear is not fully repaired

MC-195640 - Suspicious stew inedible with full hunger

MC-197073 - Turtles laying eggs on red sand produce normal sand particles

MC-199065 - Zombies that die while on fire do not drop baked potatoes

MC-199237 - Back of ladder is incorrectly mirrored

MC-199239 - Vines appear incorrectly mirrored when viewed from behind

MC-199242 - Texture planes of crop models appear incorrectly mirrored from behind

MC-201748 - Chain model planes are incorrectly mirrored on the rear

MC-201751 - Chain section on lanterns is incorrectly mirrored from behind

MC-201753 - Sea pickle green top sections do not render correctly from behind

MC-203553 - Water bottle doesn't extinguish candles

MC-203605 - Lightning rod bottom texture is mapped incorrectly

MC-203617 - Can't "Pick Block" cauldrons with liquid or powdered snow inside

MC-203838 - Aiming a spyglass with a loaded crossbow in offhand creates weird third person effect

MC-203847 - Waterlogged candles can be lit

MC-204133 - Candle extinguishing particle appears offset from the candle

MC-204430 - Cauldrons filled with water, lava or powder snow cannot be used as a workstation for villagers

MC-205060 - Powder snow does not cause underlying grass, mycelium or podzol to appear snowy

MC-205083 - Mobs wearing leather boots spin around when walking on powder snow

MC-205106 - Mobs that get damaged by powder snow can spawn inside powder snow

MC-205131 - Landing on powder snow while wearing leather boots inflicts fall damage on Java, but not on Bedrock

MC-205143 - The particles produced when extinguishing a campfire are misplaced

MC-205158 - Powder snow inside textures are not correctly mirrored

MC-205169 - Mobs don't path find across powder snow blocks when not wandering

MC-205302 - Using /setblock to place a structure block defaults to save mode, unlike placing one by hand

MC-205613 - Skeletons in powder snow spin when aiming at the player

MC-205885 - Endermen holding water, lava or powder snow cauldrons don't drop cauldrons

MC-205914 - Placing turtle egg/sea pickle onto turtle egg/sea pickle while sneaking doesn't place it next to it, although placing candle onto candle does

MC-205918 - Experience orb stacks that were used in the mending process lose their experience amount, even if the stack is still larger than one

MC-208075 - Copper slabs and stairs are not included in the #minecraft:slabs and #minecraft:stairs tags

MC-208588 - Axolotls change color when released from bucket / axolotl entity data isn't stored in the bucket item

MC-208594 - Axolotls aren't required for the "Two By Two" advancement

MC-208647 - Axolotls don't attack elder guardians

MC-208695 - Semi-transparent pixels on axolotl textures

MC-208703 - Axolotls don't give regeneration or remove mining fatigue

MC-208745 - Explorer maps & filled maps turn blank after entering the nether or end

MC-209371 - Can't cut stacks in half in furnace output

MC-212221 - Glow item frames are rendered dark when a light source is nearby

MC-212305 - Back face of glow lichen is not correctly mirrored from behind

MC-212736 - Some world border faces are rendered mirrored, resulting in incorrect corners

MC-213552 - Shulker hitbox does not immediately rotate after the shulker visually rotates

MC-213769 - Rooted dirt is far from other dirt variants in the Creative inventory

MC-213771 - Rooted dirt is in decorations tab

MC-213772 - Certain faces of azalea are not culled by other blocks

MC-213777 - Azalea and flowering azalea z-fight when placed next to blocks

MC-213789 - Water behaves as if moss blocks were air

MC-213815 - Grass, ferns, flowers, bushes, saplings and bamboo cannot be placed on top of rooted dirt

MC-213837 - Can't pick block big dripleaf stem

MC-213841 - Signs, banners, paintings & item frames cannot be placed on moss

MC-213860 - Farmland/dirt path don't convert to dirt when moss is placed above

MC-213877 - Cannot turn Rooted Dirt into a Dirt Path

MC-213878 - Using bone meal on a small dripleaf shows breaking particles

MC-213899 - Big Dripleaf can be rotated incorrectly by breaking and replacing it

MC-213907 - Skeletons don't have a shaking animation while converting to strays

MC-213958 - Azalea bushes connect to walls and fences

MC-214049 - Mining rooted dirt is slightly faster than mining other dirt blocks

MC-214073 - The azalea's side textures are partially cut off

MC-214097 - Cake cannot be placed on top of a moss block

MC-214135 - Converted moss blocks do not update redstone

MC-214181 - Rooted dirt cannot be picked up by endermen

MC-214374 - Redstone doesn't connect vertically on moss blocks

MC-214586 - Rooted Dirt has no assigned tool

MC-214589 - End gateway exit portals can be set to high coordinates, kicking the player

MC-214639 - Rooted dirt is not randomly rotated

MC-214693 - Tripwire texture is not mirrored correctly from behind

MC-214694 - Tripwire which is part of a tripwire hook is not mirrored correctly from behind

MC-214695 - Big dripleaf texture mirrored incorrectly from underneath

MC-214696 - Small dripleaf texture mirrored incorrectly from underneath

MC-214698 - Azalea top texture is mirrored incorrectly

MC-214818 - Waterlogged pointed stalagmites don't drop when their support block is broken

MC-214858 - Powered big dripleaf play tilting sounds when blocks are changed nearby

MC-214879 - Selecting nothing and pressing Ctrl+C clears clipboard

MC-214901 - Rain passes through moss blocks

MC-214965 - Maximum building height is 319, but warning message says 320

MC-216820 - Cobbled Deepslate Slab uses the stone sounds instead of the deepslate sounds

MC-217749 - Small Dripleaf can't be placed on Rooted Dirt while waterlogged

MC-218888 - Shift Clicking items into inventory prevents the relevant advancement from triggering

MC-219054 - Can type text into anvil text field without putting an item in it, preventing you from closing the UI with E

MC-219103 - The eyes of some entities can be seen through powder snow/lava

MC-219203 - Mineshaft support legs can generate in lava

MC-219240 - Inconsistency: cobbled deepslate does not take longer to mine than deepslate

MC-219635 - There is no sound when defrosting from fire/lava (vanilla parity)

MC-219740 - Spyglass overlay broken while in water with fast graphics

MC-219850 - There is no sound or subtitle for applying/removing/scraping wax or oxidation

MC-219868 - Opening a UI darkens the background less than it used to

MC-219906 - Minecraft crashes when spectating an entity submerged in water

MC-219920 - Amethyst Blocks can no longer be gained by mining them

MC-219933 - Shulker heads do not flash red when taking damage / when killed

MC-219937 - Parity issue: Clouds are at y=192

MC-219973 - Hanging Roots takes about a second to be mined

MC-219974 - Big Dripleaf takes about a second to be mined

MC-220068 - Experience orbs are no longer affected by the fog from powder snow/lava

MC-220069 - Wither/creeper armor is no longer affected by the fog from powder snow/lava

MC-220070 - Lightning is not affected by the fog from powder snow/lava

MC-220157 - String is not affected by light levels

MC-220174 - With graphics set to Fabulous!, blocks such as honey, slime and stained glass appear lit up in third person mode

MC-220269 - Shader texture coordinate wrapping mode causes screen effects like glowing to wrap where they shouldn't

MC-220339 - Beacon beam is not affected by the fog from powder snow/lava

MC-221146 - Water fog still very subtle making water appear too clear in the distance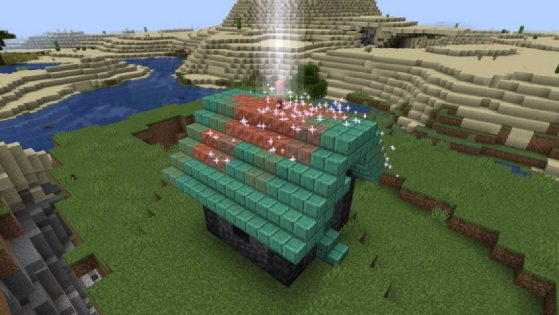 La nouvelle snapshot 21w11a s'attaque au cirage et à l'oxydation du cuivre entre autres modifications. De nombreuses corrections de bugs sont aussi au rendez-vous de cette snapshot pour Minecraft 1.17 !