Même si 2020 est une année un peu spéciale ayant causé de multiples reports de jeux-vidéo, la cérémonie des Game Awards sera bel et bien tenue et sera l'occasion de découvrir de nouveaux trailers pour de gros jeux sortant en 2021 voire au-delà, mais aussi de sortir du lot les meilleurs jeux de l'année, selon un jury composé de plusieurs sites de JV provenant de tous horizons. Ci-dessous, vous pourrez voter pour les élus de votre cœur dans chaque catégorie de nommés des Game Awards 2020.
Catégorie jeu de l'année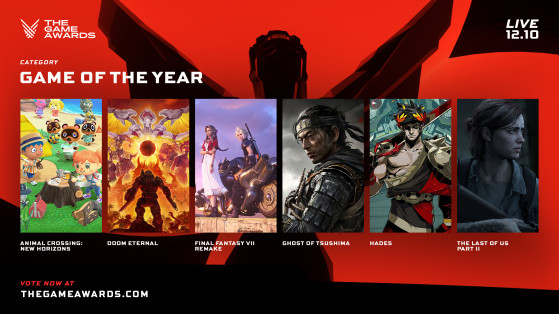 Meilleure Game Direction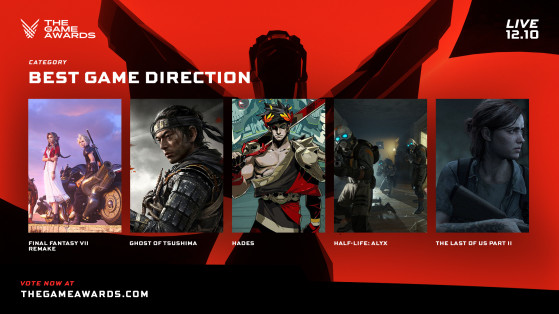 Final Fantasy VII Remake

Ghost of Tsushima

Hades

Half-Life: Alyx

The Last of Us Part II
Meilleure Performance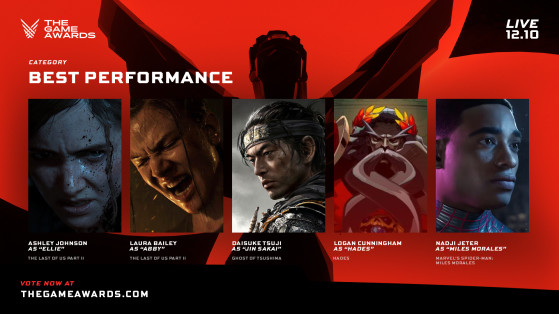 Ashley Johnson dans le rôle d'Ellie dans The Last of Us Part II

Laura Bailey dans le rôle d'Abby dans The Last of Us Part II

Daisuke Tsuji dans le rôle de Jin Sakai dans Ghost of Tsushima

Logan Cunningham dans le rôle d'Hades dans Hadès

Nadji Jeter dans le rôle de Miles Morales dans Spider-man: Miles Morales
Meilleur jeu multijoueur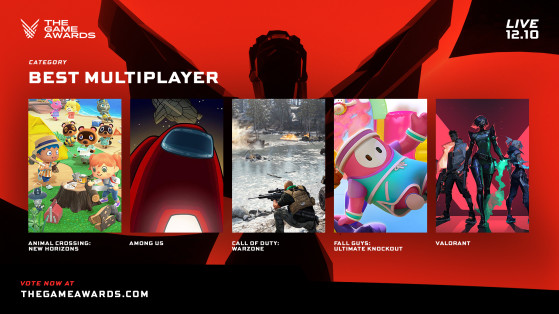 Meilleur jeu en cours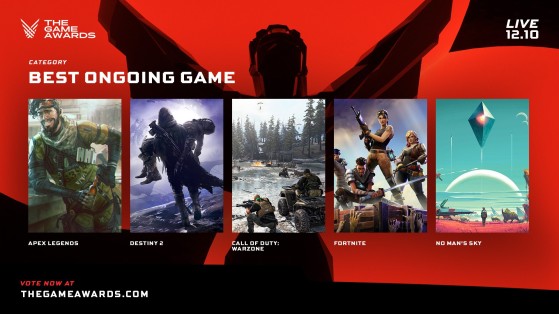 Meilleure direction artistique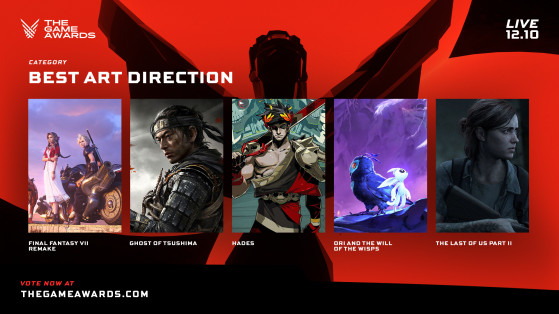 Final Fantasy VII Remake

Hades

The last of us part II
Meilleure musique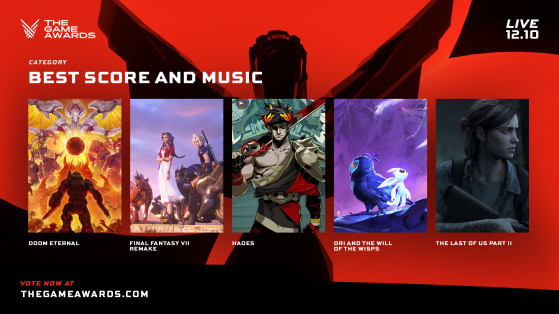 Doom Eternal (composée par Mick Gordon)

Final Fantasy VII Remake (composée par Nobuo Uematsu, Masashi Hamauzu et Mitsuto Suzuki)

Hades (composée par Darren Korb)

Ori and the Will of the Wisps (composée par Gareth Coker)

The Last of Us Part II (composée par Gustavo Santaolalla et Mac Quayle)
Meilleur Design audio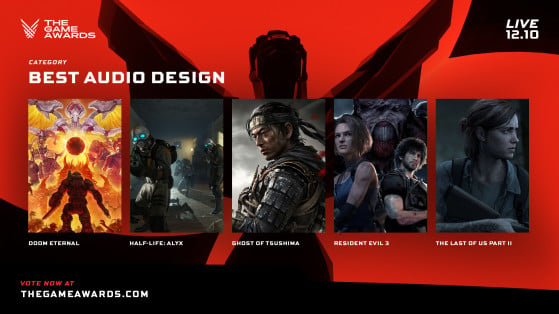 Doom Eternal

Half-Life Alyx

Ghost of Tsushima

Resident Evil 3

The last of us Part II
Meilleur jeu qui innove en matière d'accessibilité (nouvelle catégorie)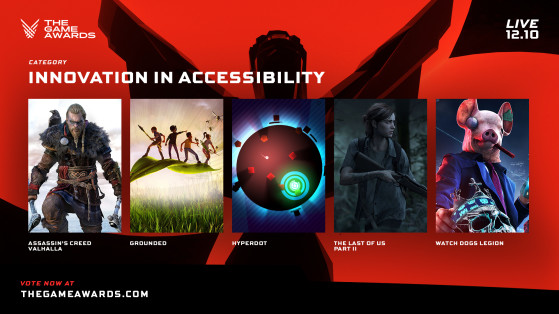 Grounded

Hyper dot

The last of us Part II
Meilleure narration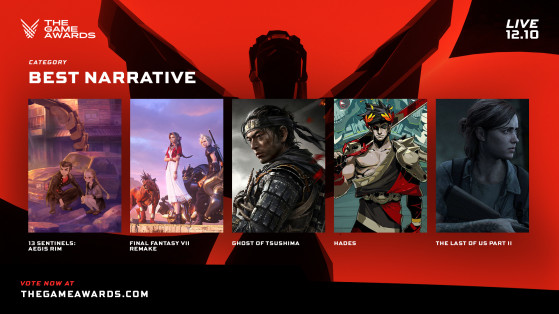 13 sentinels: Aegis Rim

Final Fantasy VII Remake

Ghost of Tsushima

Hades

The last of us Part II
Jeu ayant le plus d'impact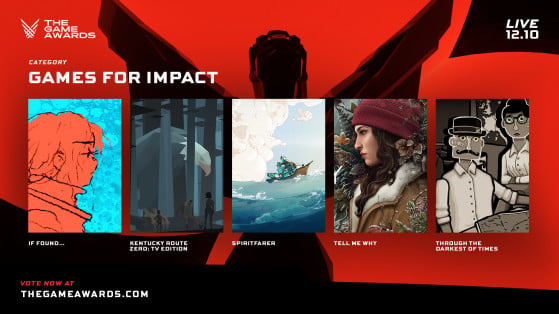 If found...

Kentucky route Zero

Spiritfarer

Tell me why

Through the darkest of times
Meilleur jeu indépendant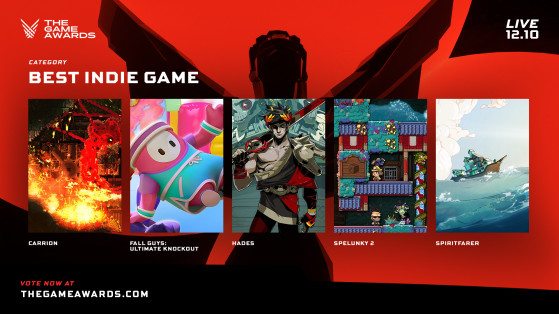 Carrion

Fall Guys

Hades

Spelunky 2

Spiritfarer
Meilleur jeu mobile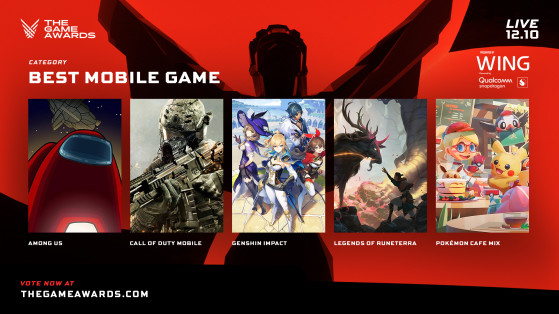 Among Us

Call of Duty Mobile

Legends of Runeterra

Pokémon Café Mix
Meilleur support à la communauté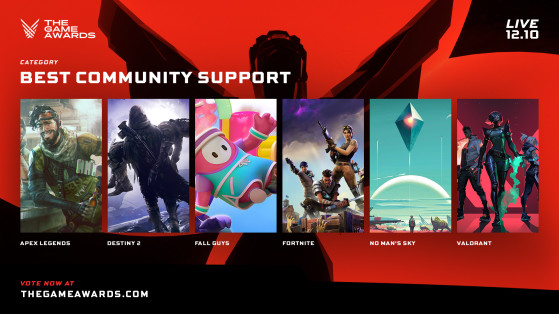 Apex Legends

Destiny 2

Fall Guys

Fortnite

No Man's Sky

Valorant
Meilleur jeu indépendant faisant ses débuts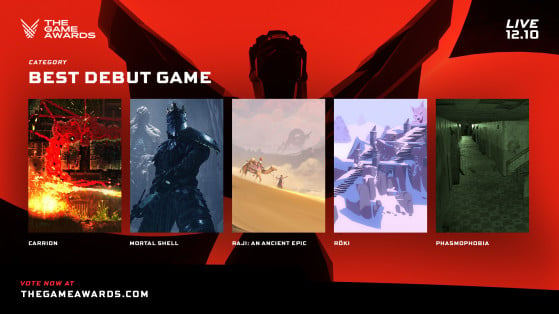 Carrion

Mortal Shell

Raji

Roki

Phasmophobia
Meilleur jeu en Réalité Virtuelle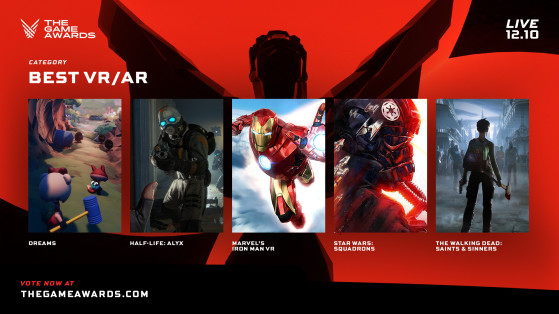 Dreams

Half-Life Alyx

Iron Man VR

The Walking Dead Saints & Sinners
Meilleur créateur de contenu de l'année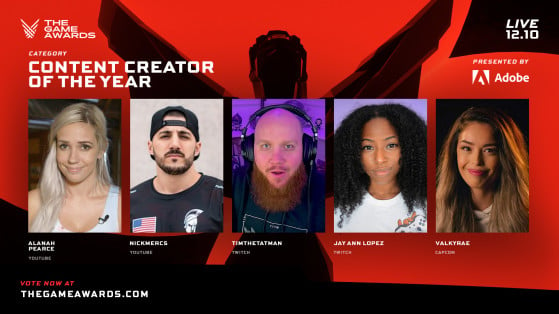 Alanah Pearce

Jay-Ann Lopez

Nickmercs

Timthetatman

Valkyrae
Meilleur jeu d'action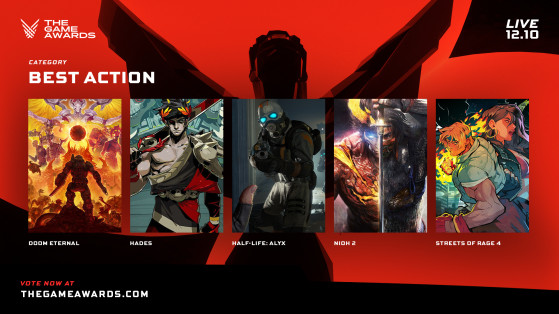 Doom Eternal

Hades

Half-life Alyx

Nioh 2

Streets of rage 4
Meilleur jeu d'aventure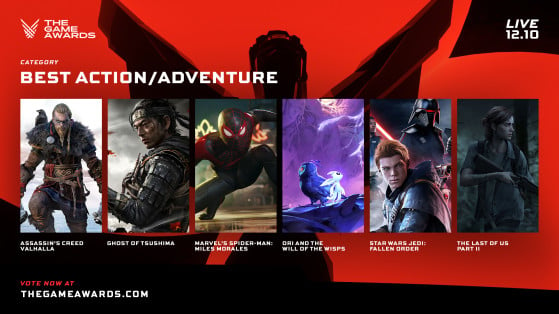 Assassin's Creed Valhalla

Ghost of Tsushima

Spider-Man Miles Morales

Ori and the will of the whisps

The last of us Part II
Meilleur RPG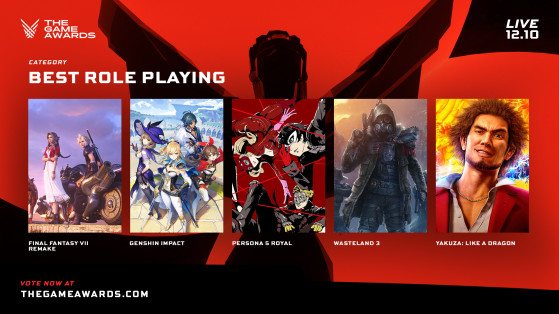 Final Fantasy VII Remake

Genshin Impact

Persona 5 Royal

Wasteland 3

Yakuza Like a Dragon
Meilleur jeu de combat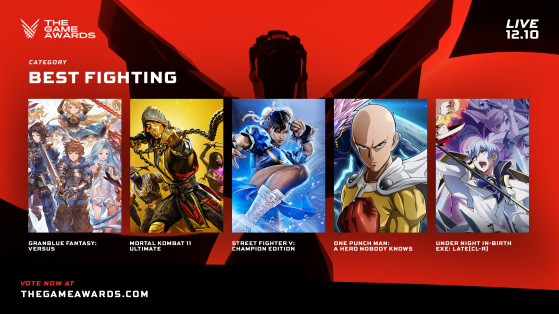 Granblue Fantasy Versus

Mortal Kombat 11 Ultimate

Street Fighter 5 Champion Edition

One Punch Man : A hero nobody knows

Under Night In-Birth
Meilleur jeu familial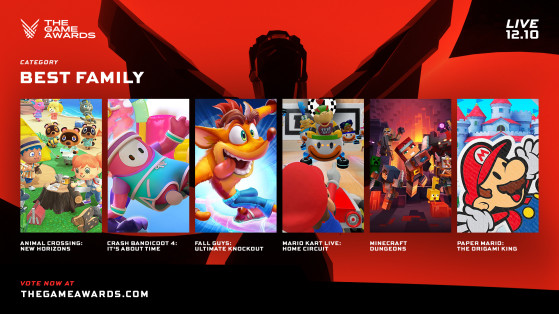 Animal Crossing: New Horizons

Fall Guys

Mario Kart Live Home Circuit

Paper Mario Origami King
Meilleur jeu de Stratégie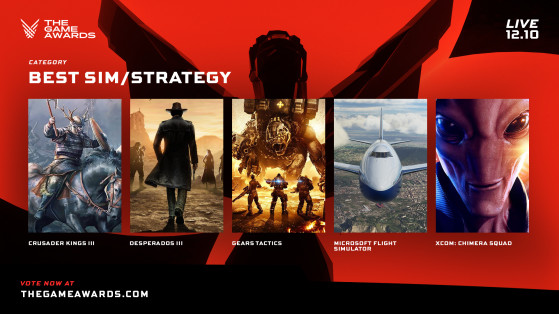 Crusader Kings 3

Desperados 3

Gears Tactics

Flight Simulator

Xcom Chimera Squad
Meilleur jeu de Sport et de course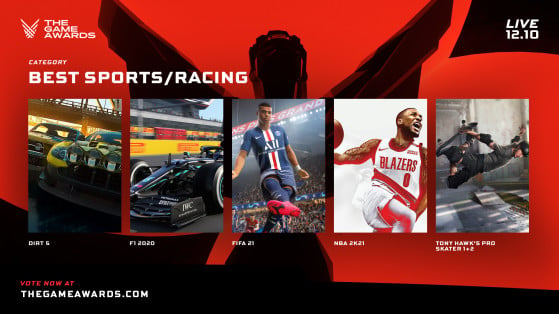 Meilleur jeu Esport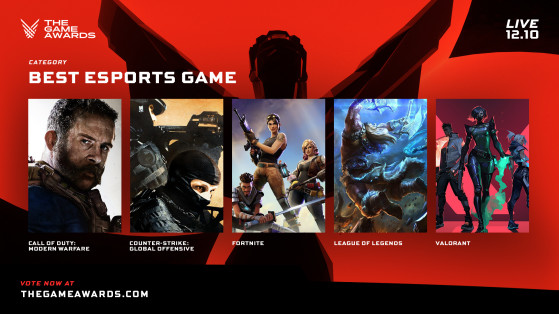 Call of Duty Modern Warfare

Counterstrike

Fortnite

Valorant
Meilleur athlète esport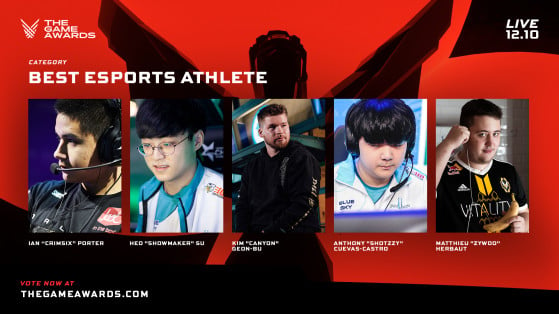 Crimsix

Showmaker

Canyon

Shotzzy

Zywoo
Meilleure équipe esport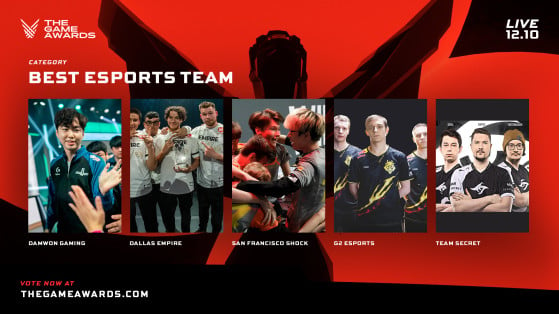 Damwon Gaming

Dallas Empire

San Francisco Shock

G2 Esport

Team Secret
Meilleur Coach esport
Zefa

Zonic

Crusty

Rambo

Grabbz
Meilleur événement esport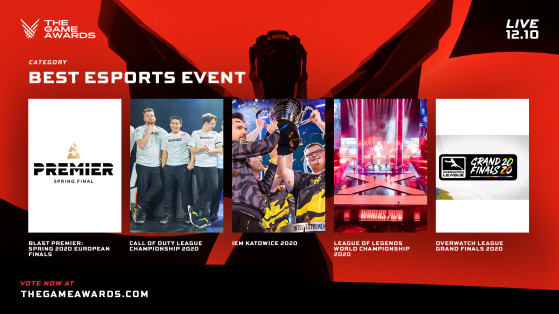 BLAST Premier Spring European Finals 2020

Call of Duty League Championship 2020

IEM Katowice 2020

League of Legends World Championship 2020

Overwatch League Grand Finals 2020
Meilleur hôte esport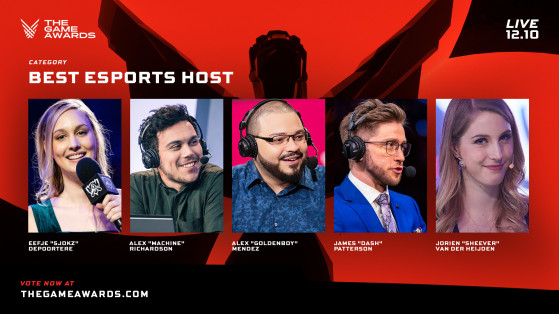 Alex "Goldenboy" Mendez

Alex "Machine" Richardson

Eefje "Sjokz" Depoortere

James "Dash" Paterson

Jorien "Sheever" van der Heijden
Le vote des fans est désormais ouvert et se déroulera jusqu'à 18 heures (heure du Pacifique) le mercredi 9 décembre 2020. Vous pouvez faire vos choix ici.
Pour rappel, les Game Awards 2020 auront lieu le 10 décembre à 1h du matin (donc dans la nuit du 10 au 11).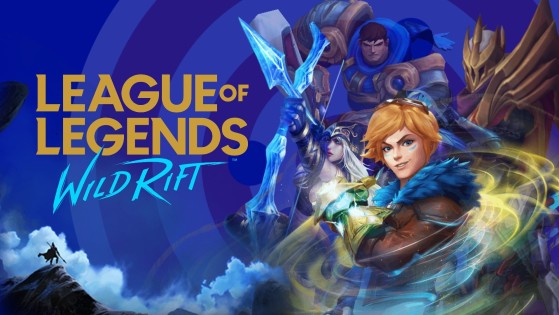 Riot Games vient de dévoiler la dernière phase du déploiement de l'Open Beta de League of Legends: Wild Rift, annonçant ainsi les dates d'ouverture pour différentes régions. Plus de détails dans cet article !